---
SPECIAL OFFER! FREE Interior Purse Organizer!
Interior Purse Organizer
Now easier than ever to switch from one purse to another with this organizer!  This organizer can be used to store all of your trinkets, and is made out of fabric to fit easily into your purse, car, desk, or suitcase. An organized bag equals a organized mind!  Once set, simply grab the handle and switch purses for another outfit without any hassles!


Highlights:
• Made of easy care cotton and polyester
• Multiple pockets to classify your personal stuff
• Perfect for holding cosmetics, a cellphone, cards, books, travel goods
• Measures approximately 11.25" x 6.7" x 3.9"

For A Limited Time We're Giving Away Our FREE Interior Purse Organizer!
Act Now! Only For A Limited Time!!
* Limit, Three Per Customer Only!!
This bag has revolutionized my life!! As a professional woman who needs to stay organized, my purse was my downfall. All my adult life I have fumbled to find things on the bottom of my handbag, no matter what the size. I have even tried carrying a flashlight to find things, but I could never find the flashlight. Do I have a pen? It's got to be here somewhere. Paper, yes I think I have paper? Well, its crumpled, but it's paper. Safety pins, maybe, but it will take an hour to sort through everything else to find in. Maybe if I dump everything out on the counter, it won't take so long. NOW I am the picture of efficiency....wallet, pens, paper, cords, phone, keys, gum, safety pins, comb, ID badge, mouthwash, lipstick, cold capsules, and more all tucked nicely into this travel bag which easily slips in an out of any purse I choose to carry. I purchased the small and medium size and they fit perfectly inside my purses. The organizer holds a ton of stuff and everything is standing up in full view. Nothing is laying on the bottom of my purse. It has completely changed everything. I am DELIGHTED with this purchase!!!
- Janis Creason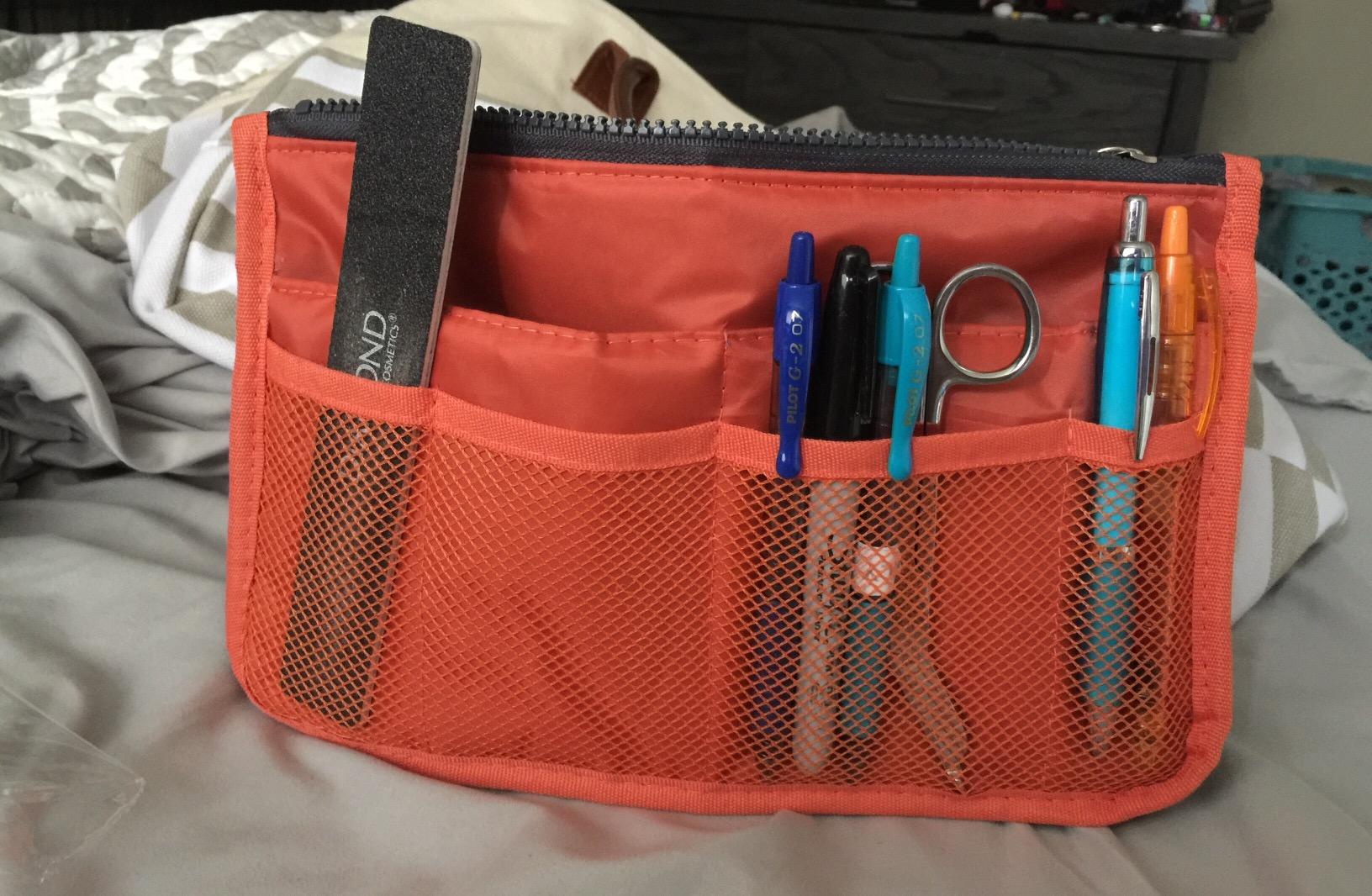 "This is exactly what I was looking for!
I'm a private duty nurse and I carry a large tote but of course it comes with no real pockets for pens, phone charger, gloves, etc. The organizer keeps everything in place and within reach in my bag. great product, not sure about durability but for the price I would definitely buy another one if I needed too."
- Ashley K.
This is such a great product. I love bags and I am always changing them, which can be a bit messy if you're like me and carry your entire closet with you. Haha. This is perfect. It has soooo much storage, I didn't realize it had another zipper compartment. Highly recommend. 👌🏻👌🏻👌🏻
-   Wanderx W.
Bought this to organize front pocket on my lunch box. Eye drops, chapstick, pens, batteries, charging cables, and things of that nature. I work out in the field and don't want to lug around a back pack or anything more than I need. It's the perfect size. Collapsible with snaps to hold it shut is a bonus. The zippered pouches are perfect for receipts I need to turn in or any notes I need to make without getting jumbled up. Arrived much sooner than expected.
- Alisha S.
Interior Purse Organizer
High quality and new made of durable and waterproof nylon,easy to clean,foldable,light weight
Multiple pockets to classify your personal stuff portable and compact,make your bag clean

Insert Organizer 13 Pockets Organizer Purse,1 large pockets, 4 small pockets, 2 zipper pocket and 6 mesh pockets,accommodate toiletries,clutter,key,cell phone, cards, books, travel goods etc.
Perfect for Travel,Home, Ourdoor, Bedroom,Toilets and other Storage,bag in bag

We're offering a Limited time SPECIAL OFFER!

Regular Price: $29.99

Interior Purse Organizer

FREE

when you pay for shipping.




* Limit, Three Offers Per Customer

slctvrnt:--::|~|:shwqty:--:true:|~|:qty:--:1:|~|:prdurl:--:https://modernkitchenmaker.com/cart:|~|:prdclass:--:ba-5065040:|~|:prdbtnltp:--:checkout:|~|:prdbtnelt:--:_self:|~|:prdbtncpt:--:Claim Yours Now!:|~|:prdbtnclass:--:zpa-button-xlarge bcss-5065040:|~|:prdbdhtml:--:

Description:

Now easier than ever to switch from one purse to another with this organizer!  This organizer can be used to store all of your trinkets, and is made out of fabric to fit easily into your purse, car, desk, or suitcase. An organized bag equals a organized mind!  Once set, simply grab the handle and switch purses for another outfit without any hassles!

Highlights:

• Made of easy care cotton and polyester

• Multiple pockets to classify your personal stuff

• Perfect for holding cosmetics, a cellphone, cards, books, travel goods

• Measures approximately 11.25" x 6.7" x 3.9"

• Available in your choice of Blue, Coral, Gray, Hot Pink, Light Pink, Purple, Red, Wine Red, Yellow, or Green

:|~|:mcontclstclass:--:cluster-padding-medium cac-5065041:|~|:mcontclass:--:zpa-plain-product-022-v2 zpa-container ba-5065041:|~|:imgpos:--:left:|~|:handle:--:inside-purse-organizer:|~|:descclass:--:pda-5065040:|~|:clstid:--:1395887:|~|:brdclass:--:zpa-border-style-none zpa-border-thickness-small ba-5065039:|~|:addcrtmsg:--:Product has been added to cart

Shipping

Due to extremely high demand, orders take up to 10-15 business days to ship and arrive. Please be patient, we are doing our very best to fulfill every order that we receive!

 

Refunds

If for whatever reason, you decide you are not satisfied, you can easily and quickly contact our helpful customer support (staff@modernkitchenmaker.com) to get an easy refund. We just ask that you at least give the product a 4 week try and we'll refund you, no questions!

:|zpendofcontent|: